Winter Wonderland
A Holiday Destination to Banff, Alberta, Canada
Posted on November 23, 2016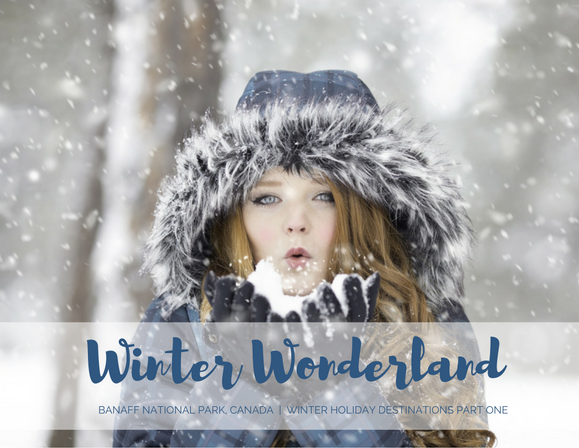 If spending a holiday vacation in a frosty winter wonderland is your idea of a fantastic getaway- here are ten reasons why you will love visiting Banff National Park, Canada
No. 1 Sleigh Ride- I can't think of a better way to channel my inner snow princess than snuggled in a blanket on a horse drawn sleigh ride. Sleigh Rides
No. 2 If horses pulling your sled sounds a bit ho- hum, what about mushing through the snow behind a team of dogs?
No. 3 If your lucky enough to book a room at the Fairmont Banff Springs Hotel, you will experience first hand why this hotel is a Banff icon, built in 1898 by the Canadian Railway the hotel is steeped in history. Book a tour here if you're staying at any of the other fantastic lodging available in Banff
No. 4 The Sulphur Springs Gondola – Take in the stunning vistas from the top of the world in a gondola. After your ride head across the street to warm up in the hot springs. ( The gondola closes mid- December)
No. 5 The Banff Upper Hot Springs- because… cold. Can you think of a more pleasurable way to warm up? Me either.
No. 6 Surprise Corner. Surprise! You have just stumbled upon the most breathtaking views of the Fairmont Hotel, Bow Falls and Sulphur Mountain. There is a viewing platform however, it closes when conditions too snowy or slippery.
No. 7 In the shadow of the Fairmont Hotel lies Lake Louise and Queen Victoria Glacier, fasten on your cross country skis and ski around the lake. In January, the lake turns into a magical display of glimmering ice sculptures, for the annual Banff Snow Days and Ice Magic Festival.
No. 8 Après-Ski, Après -Snow Board or Après -SnowTube. I'm all about the Après- a cozy fireplace, a good book and warm beverage. Obviously, I don't need to tell the snow lovers about the myriad of options for all the above mentioned outdoor activities. For an exhilarating experience, arrange for a helicopter to take you on a guided ski or snow boarding excursion.
No. 9 Snow Shoe hike – Hike Johnston Canyon and marvel at the sparkly frozen beauty of the waterfalls.
No. 10 Shop. Eat. Drink. Repeat. Banff Shopping Guide & Banff Dining Guide
Bonus! The Columbia Ice Fields are nearby and worth the drive. Take a tour on an ice explorer and fill your water bottle with pure glacier water.